Browse Safety Jobs - Queensland
Location:

Northern Suburbs Brisbane, Queensland, Australia
Posted:

2019-02-12
Advertiser:

Hays ANZ

- 2176191
Commence Immediately
Career development
Brisbane's Northern Suburbs
WHS Advisor role in north of the Brisbanes CBD. Proactively promote and influence safety culture.
Location:

Brisbane, Queensland, Australia
Posted:

2019-02-11
Advertiser:

The Safe Step - Brisbane

- 2806012a
Manage a team of national HSE Business Partners
South eastern suburbs Melbourne, or Brisbane with national remit
Experience within liquids, chemicals and/or dangerous goods
This organisation is a leading Australian business within their field with over 5,000 employees across the country. Due to a recent restructure in their HSE team, an opportunity currently exists for a passionate and forward thinking indiviudal to join the team.
Here's what arrives in your inbox when you subscribe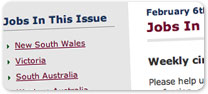 OR